Mercedes Repair Colorado Springs | Colorado Springs Mercedes Service Repair
Welcome to Import Specialty Auto (ISA)
Professional Auto Service and Repair since 1978!
Over 40 years of trusted specialized import vehicle r

epair, maintenance, and service

Quality Mercedes Mechanic Services

Auto Technicians are certified and extensively trained specifically

on the import vehicle you drive

Complimentary use of Loaner Vehicles

Free customer shuttle ride service to and from our car repair shop

Extensive inventory of tools and computer equipment required to servi

ce your import vehicle properly

3 Year / 36,000 mile warranty on most repairs

You're covered with our nationwide repair warranty

Voted "Best Aut

o Repair Shop" 7 years in a row

After-Hours drop off / key drop available

Discounted towing services available

Reliable, Quality, and Honest Mercedes repair in Colorado Springs
Trusted Service for over 40 Years
When it comes to Mercedes if you want it to run for a long time, you need to maintain its engine and other parts to make sure it's running its full 200,000- 250,000 mile lifespan and further. Their vehicles are known for being able to go a long way if they're taken care of well. Because even the best maintained car will need service at some point – that's where a Mercedes mechanic comes in handy.
Import Specialty Auto knows that your car is a big part of life and we want to make sure you never have an issue with repairing it. That's why our mechanics specialize in working on imported cars like Mercedes! We offer regular maintenance services as well as diagnosing and checking fluids.
There's no better place to take your import car than Import Specialty Auto! We are here for you, and we will do everything in our power so that the experience is nothing less than excellent. Our staff has been repairing foreign cars for over 40 years!
Mercedes has always been known for its durability. If you need an expert to care of your car, we're here with the best import repair and specialty shop in Colorado Springs
You are our priority at Import Specialty Auto. We know that you love your Mercedes, so it becomes our priority. Our staff will work hard so they can last long for you!
SCHEDULE SERVICE
GET ESTIMATE
We Provide Expert Service
Below are some of the many Mercedes auto repair services we offer:
Warning Light Diagnosis and Repair
Mileage Maintenance Services
Condition-Based Maintenance Services
"Check Engine" Warning Diagnosis and Repair
Brake Service and Repair
Air Conditioning Service, Diagnosis, and Repair
Heating System Service, Diagnosis, and Repair
Battery Service and Repair
Hybrid Vehicle Service
Electric Vehicle Service
Vehicle Inspection Services (Pre-Purchase, Trip, Summer/Winter Prep)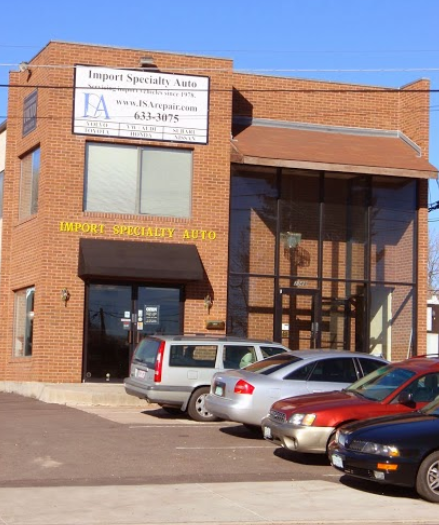 Import Specialty Auto (ISA) service and repair
Our name says it all: import auto repair is what we do, and we've been doing it since 1978! Our family owned business began in a small, two bay automotive repair garage that specialized in Volkswagen and Volvo repair. Import Specialty Auto (ISA) quickly began to distinguish itself as a leading auto repair shop in Colorado Springs. ISA became the "go to" shop for servicing Volvo and other European and Asian vehicles. Over the years, we've made significant investments in training and tools in order to advance our expertise in performing repairs on European vehicle makes such as BMW, Mini Cooper, Volkswagen, Audi, Mercedes, Volvo, and Land Rover. We've also developed an expertise diagnosing and repairing Asian vehicle makes such as Subaru, Honda, Acura, Toyota, Lexus, Nissan, and Infiniti.
Here are a few of the reasons why you should choose ISA for your auto repair:
Customer satisfaction is our top priority
40+ years of import auto repair service in Colorado Springs
Complimentary use of loaner vehicles
Free customer shuttle ride service
3 year / 36,000 mile nationwide warranty on most repairs
ASE certified technicians that are experts on your import vehicle
Voted "Best Colorado Springs Auto Repair Shop" 7 years in a row!
Import vehicle specialty tools and diagnostic computer equipment
Import Specialty Auto Repair FAQs
What Our Customers Say
"Mechanics are insanely knowledgeable and don't recommend things your car doesn't need. As a former mechanic walking in for the first time, they were honest and straight to the point."
"I recently took my Lexus in to ISA, I'm a repeat customer and have always felt very taken care of. They've been monitoring my front axle boots for about a year now and said it was very minor until recently when they showed me that one of the boots had finally split and I needed to replace it at this time to save the expense of having to replace the entire axle assembly. I have full confidence that they have my best interest in mind at all times and feel confident bringing my vehicle to them."
"They have excellent communication regarding appointments and coordinating vehicle pick up and their pricing is exceptional. It was a great relief finding them after paying dealership service fees for way too long. I have had both big and little repairs done at ISA and have been very pleased with their maintenance and repair work and would highly recommend them…you will be pleased too."
"They've been around forever and know what they're talking about. You can talk every detail over with them for sound reasoning before making a big decision. I.e. motor mounts to address vibration at hwy speed was a smart place to start! Eric in particular will not steer you wrong, he's in it for the long haul guys, in it to win it!"